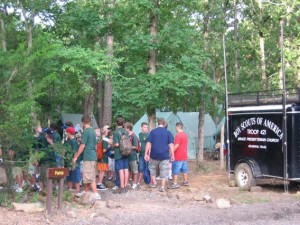 The Boy Scouts of America is one of the nation's largest and most prominent values-based youth development organizations. The BSA provides a program for young people that builds character, trains them in the responsibilities of participating citizenship, and develops personal fitness.
For a century, the BSA has helped build the future leaders of this country by combining educational activities and lifelong values with fun. The Boy Scouts of America believes — and, through a century of experience, knows — that helping youth is a key to building a more conscientious, responsible, and productive society.
Since 1988, Grace Presbyterian Church has chartered Boy Scouting units and has been recognized for providing the complete Boy Scout program to the youth of our community.
Cub Scouts
The adventure starts with Cub Scouting, a year-round family program designed for boys in the 1st through 5th grades. The program emphasizes shared leadership, learning about the community, family understanding, character development, citizenship training, and personal fitness.
Young boys grow up fast. Give your son a valuable gift by encouraging him to join Cub Scouting today. The time you invest in him today will make a difference in the person he becomes tomorrow.
The Cub Scouts of Pack 421 have completed a successful rally and are ready to start another exciting fun year.
They will be meeting on Monday nights at Grace Presbyterian Church for their Pack and Den Meetings.
If you would like to be a member of Cub Scout Pack 421, please contact
Cubmaster Jeff Smith at 817-688-3649 fire_563@yahoo.com
Boy Scout Troop 421
Boy Scouting is for boys who are 11, or are at least 10 years old and have completed the fifth grade or have earned the Cub Scout Arrow of Light Award, through 17 years old. Boys experience a vigorous outdoor program and peer group leadership with the counsel of an adult Scoutmaster to achieve the BSA's objectives of developing character, citizenship, and personal fitness. Camping, fun with friends — and more. It's the adventure of a lifetime.
Boy Scout Troop 421 has just planned an active and exciting calendar for the year. They meet at the church every Monday night.
If you would like to be a member of Boy Scout Troop 421, please contact Scoutmaster Mike Kinney at 817-307-4612 mkinney69@yahoo.com
Venture Crew 421
Venturing is a coed, high-adventure program for youth 14 through 20 years of age, or 13 years of age and have completed the eighth grade. The program provides positive experiences through exciting and meaningful youth-run activities that help them pursue their special interests, grow by teaching others, and develop leadership skills.
Venture Crew 421 has planned two "Big Adventures" for the year – Kanik , a winter program at Philmont during Christmas break and a canoe trip on the Buffalo River in Arkansas next summer. They meet at the church the second and fourth Thursdays each month.
Life is an adventure…go higher, go farther, go Venturing.
If you would like to be a member of Venture Crew 421, please contact
Advisor Anthony Akins at 817-437-8009 anthony.akins@mavs.uta.edu
Girl Scouts
Grace Presbyterian Church also provides meeting space for multiple Girl Scout units.